This is a guide for submitting Redesigns for your character. If you need to submit a MYO design, please see the MYO Approvals guide!
Redesign approvals
Step 1: Find your character
Find the character you want to update, and open their individual profile page.
ranebopets > my characters  or  your username > profile > characters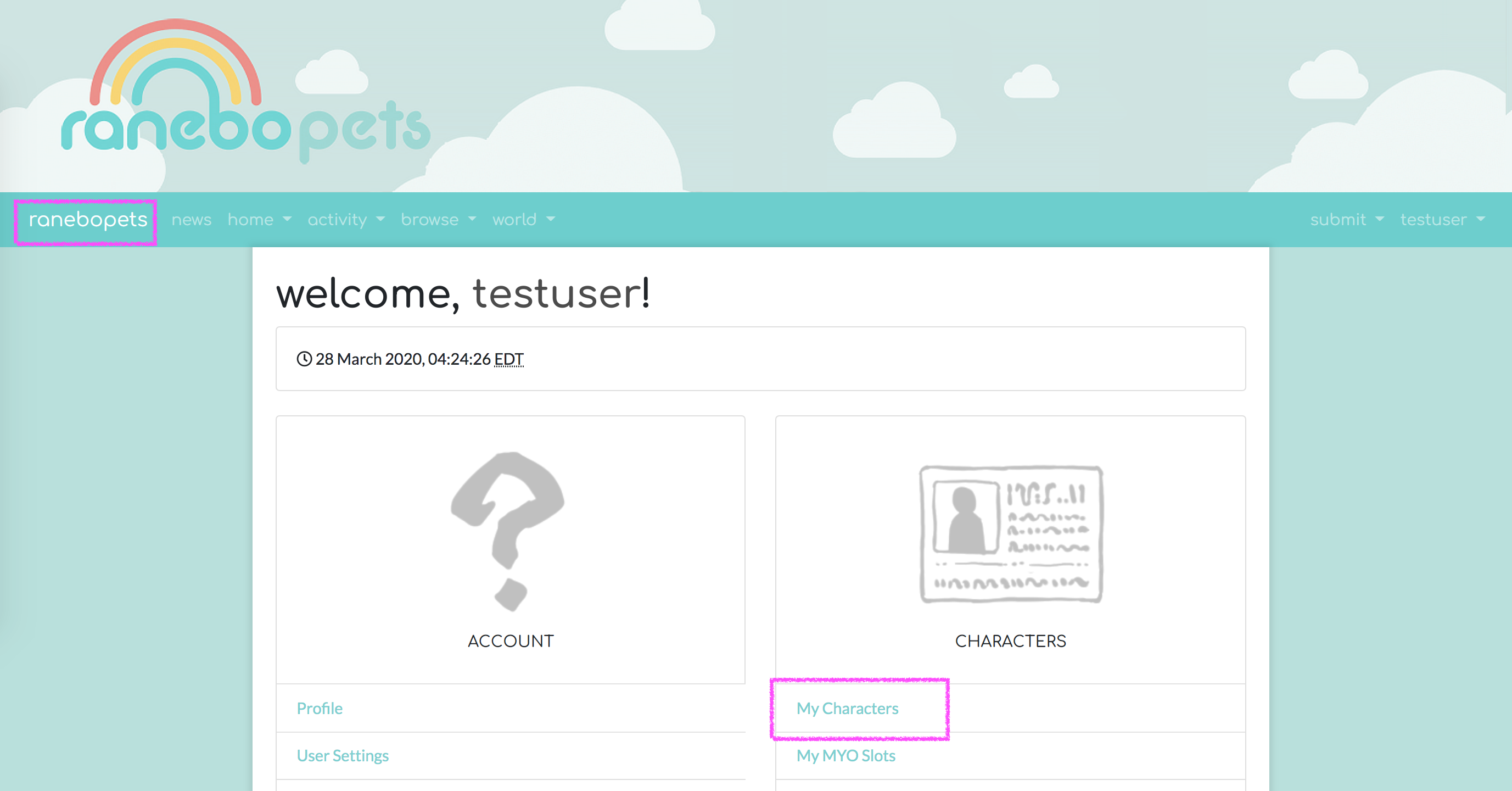 Step 2: Begin update
Click on Update Design in the left sidebar to access the Design Update Request page.
Click on Create Request.
Step 3: Filling out the form
At the top of the page you will see five tabs; Status, Comments, Masterlist Image, Add-ons, and Traits. Please make sure to hit Save at the bottom of the page after every step. The red X at the top will change to a green O when everything is filled out!
1. Status
This tab shows the status of your request. We'll come back to this later!
2. Comments
This section is for any additional notes about your design that you feel are necessary. If you don't have anything to add, simply put None or N/A into this section.
3. Masterlist image
Upload your updated design image. ranebopets does not generate watermarks for you, so if you would like your Masterlist Image to be watermarked, please create a watermarked version yourself for upload!

Note: all image updates require a new thumbnail. You can upload a custom thumbnail image or use the Image Cropper to create one from your uploaded Masterlist Image.

Credit the designer(s) of your character. You must credit the original designer as well as any new designer(s); you can list multiple designers by using the + button to the right of the Designer URL field.

If they have a ranebopets account, you may enter their ranebopets username into the Designer Alias field.
If they do not have a ranebopets account, enter a link to their profile in the Designer URL field.

Credit the artist of the new Masterlist Image. You can list multiple artists by using the +

button to the right of the

Designer URL

field.




If they have a ranebopets account, you may enter their ranebopets username into the Artist Alias field.
If they do not have a ranebopets account, enter a link to their profile in the Artist URL field.
4. Add-Ons
This section is where you will select all of the items you are using to change your design. It may be easier to complete this tab after you have completed the Traits tab!
Under Your Inventory, select all the necessary items for the new traits you are adding to your character. If you are having trouble, you can Filter your inventory by category! 
5. Traits
From this tab, you can see the traits your character currently has, their species, and their rarity.
To add new traits:
Click Add Trait.
In the Traits dropdown menu, type in all or part of the trait name to search for it. Click the appropriate trait when you find it in the list.

Note: You must include all exact traits you are using. Do not use a "+1 [rarity] trait" trait listing! All traits have their own listing; these generalized traits are used for MYO slots with special additions.

Repeat this for every new trait you are adding to this character.
Once you have added all of your traits, change the Character Rarity to match their highest rarity trait.
For example if you added an Enchanted trait to a previously all common character, you would change their rarity to enchanted.
If you are using an item like the Betrayal of Halcyon potion or the Trabbowl potion to change a character's subspecies,  go to Species Subtype and select the subspecies from that dropdown. Otherwise, do not change the Species Subtype!
6. StatuS (Again)
If you have properly filled out the other four sections and saved them as you went, you can now submit your redesign! Click Submit Request at the bottom of this page to send this to the admin queue for approval!
FAQ
Q: I don't see [name] trait! where did it go?
If a certain trait is missing, it may have a different name or not be added! If you believe a trait is missing from our database please contact a moderator via deviantART or Discord!
Q: Why was my redesign denied?
If your redesign was denied, make sure you read the moderator comments. You may need to make edits to your design. If no rejection message was included, please contact the moderator via deviantART or Discord!